Exhibition Outline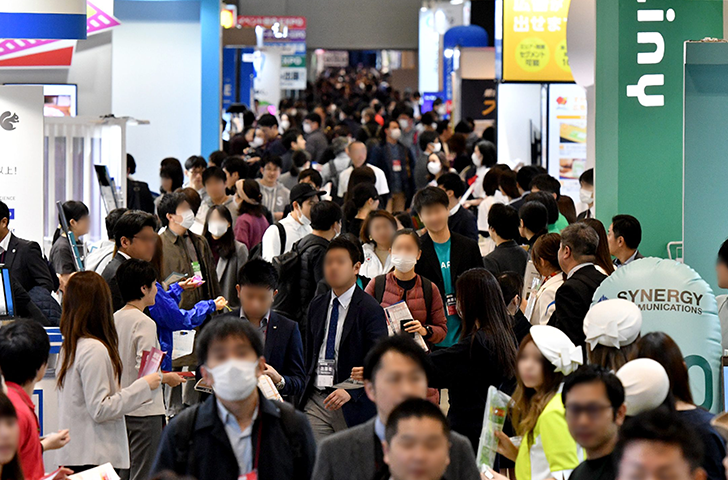 Japan Marketing Week [Spring] consists of:
 ● 5th PROMOTIONAL GOODS EXPO [Spring]
 ● 5th DIGITAL PROMOTION EXPO [Spring]
 ● 5th SALES SUPPORT EXPO [Spring]
 ● 5th SIGNAGE & DISPLAY EXPO [Spring]
 ● 3rd STORE OPERATION SOLUTIONS EXPO [Spring]
 ● 5th ADVERTISING SUPPORT EXPO [Spring]
 ● 2nd INTERNATIONALIZATION SUPPORT EXPO [Spring]
Novelty Items, Stationery/Office Products, Product Packages, Anniversary/Premium Gifts, Printing Services, PB/OEM/ODM, Toys & Figures, Smartphone Goods & Accessories, Event & Concert Items, T-shirts/Caps, Paper & Eco Bags, etc.
Point-of-purchase Advertising, Signboards/Banners/Flags, Digital Signage, Online-to-offline Solutions, Store Decoration Supplys, POS Systems, Projection Mapping, Light Production, 3D/Space Display, etc.
SFA/CRM, Sales Outsourcing/Call Centers, Database Management Systems, Appointment Support, Sales Training Reinforcement Services, etc.
Advertising Space/OOH, Content Creation, Outdoor Advertisings, Advertising Services, Posting Services, etc.
Digital Marketing, SNS Promotion, Advertising Technology, Search Engine Optimisation, Electronic Commerce Strategy, etc.
 
POS Register/System, Customer Management System/CRM, Inventory Management System, Logistics Management System, Payment System, O2O System, Applications for Attracting Customers, Campaign Management, Omni Channel, etc.
Internationalization Support, Overseas Advertising Media, E-commerce Support, International Call Center, Marketing Research, Digital Marketing, International Business Consulting, Global Strategy Support, Interpreter & Translation Service, etc.
Visitor Profile
Business Categories
Manufacturer, Retail, SP/AD Agent, Hotel, Restaurant, Constructor, Shopping Mall, Amusement Facilities, etc.
Job Functions
Sales/Sales Promotion, PR, Marketing, Business Planning, Owner, Purchasing, Designer, IT, etc.
Organised by RX Japan Ltd. (Formerly Reed Exhibitions Japan Ltd.)
Japan's Largest Trade Show Organiser
RX Japan Ltd. (Formerly Reed Exhibitions Japan Ltd.) organises 267 trade shows a year at large exhibition halls such as Tokyo Big Sight, Makuhari Messe and Intex Osaka across a wide variety of 34 industries including jewellery, fashion, gift items, electronics, energy, IT, cosmetics and medical. Please visit the RX Japan Ltd. (Formerly Reed Exhibitions Japan Ltd.) website for details of 267 trade shows of 34 industries annually organised by RX Japan Ltd. (Formerly Reed Exhibitions Japan Ltd.).